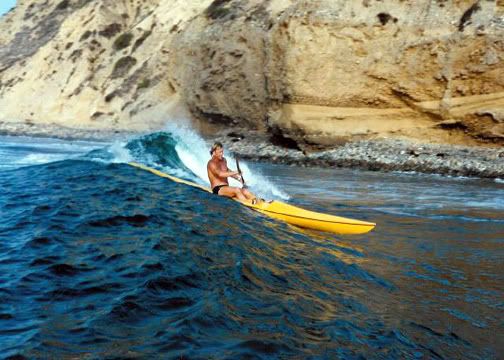 It was on a sunny Sunday morning that I recieved a call from the
Bull
asking if I wanted to come to Muizenberg for a bit of a surfski. I weighed up my options,
The Princess
was still sleeping, so I thought why not?
I strapped the surfski atop the car and rolled round to the Bull's digs where
Jimmy B
was already there and waiting. We drove in convoy to the Muiz and rolled out onto the beach looking well serious. Surfski in one hand, paddle in the other, we were ready for action.
What an awesome sport! One behind the breakers, we paddled about for awhile while we got our 'sea legs'. Now something I must stress is that when you start, you will spend lots of time in the water. In choppy seas it is not easy. Its also quite a mission to get back on again, so you get a full body work out.
Now, having just been shark cage diving and seen the monumental size of the great white shark, it was never far from my mind the thought of getting swallowed by one of these monsters. This point was exzadurated by the fact that I spent the first 15 min in the water.
Anyway, this aside, once we were on our way we had a nice little paddle round the point to St James and back again. After that, we had a good little session riding the waves. Its quite sick, you can actually paddle into the waves. This takes a bit of skill though because steering becomes monumentally difficult once in the wave.
All in all an awesome day out in the sun. A couple of mates, why not?